"Als je de baan hebt gevonden die bij je past, dan hoef je nooit meer te werken"
Deze mooi quote ontvingen wij van student Caroline die onlangs de opleiding tot Budget Life Planner succesvol heeft afgerond. Eerder volgde zij ook de opleiding tot budgetcoach en begeleiden van ondernemers met schulden. Heerlijk als je werk niet als werken voelt! Is dat ook bij jou zo? Haal jij genoeg voldoening uit je werkzaamheden? Of heb je het gevoel dat je nog meer kunt betekenen voor je cliënten?
De tip die student Caroline je geeft voor het kiezen van de juiste richting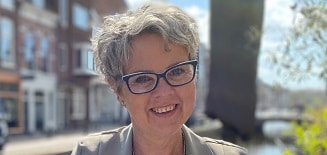 'Mijn tip zou zijn om heel goed te kijken naar wie je bent en wat bij je past. Zo richt ik me in mijn ondernemerschap vooral op mensen die niet per se in de schulden zitten. Maar juist op tweeverdieners met een mooi inkomen die toch elke maand tekort komen. Dat is de groep die mij energie geeft. En daar heb ik ook mijn opleidingen op geselecteerd. Budget Life Planner is een veelomvattende opleiding die diep gaat en helemaal in lijn ligt met wat ik nu doe. En ik? Ik gun anderen hetzelfde werkplezier. Want als je de baan hebt gevonden die bij je past, dan hoef je nooit meer te werken.'
Sparringspartner voor jouw cliënten
'Zo kijk ik nu veel breder dan voorheen, zoals naar de wijze waarop pensioen wordt opgebouwd, of er een uitvaartverzekering geregeld is of er studerende kinderen zijn en meer.'
Wil je ook een stap verdergaan voor jouw cliënten en hun adviseren in hun verdere (financiële) levensdoelen?
Lees hier meer hoe Caroline inmiddels van een baan naast haar huidige werk de stap heeft gezet naar zelfstandig ondernemerschap >>
De sleutel naar een financieel gezonde toekomst
Onze ervaren docent Bart heeft een video opgenomen waarin hij meer vertelt over het mooie vak van Budget Life Planner. We raden je van harte aan deze te bekijken! Bart legt duidelijk uit wat het vak van Budget Life Planner inhoudt en waarom de aanpak ervan vaak verder gaat dan die van bijvoorbeeld budgetcoaches, bewindvoerders of schuldhulpverleners. Zij, zo geeft Bart aan, zijn vaak bezig met het acute reparatiewerk dat op dat moment harstikke nodig is. Een Budget Life Planner daarentegen, is meer bezig om ook op de langere termijn, de horizon van de cliënt te verleggen. Het doel? Een leven lang financieel fit zou je kunnen zeggen.
Ontmoet de docent en bekijk waarom Budget Life Planner iets voor jou is!
Direct na de zomer kan jij al starten met de opleiding Budget life Planner op 14 september. Lees hier alles over het programma en meer.
Wees er snel bij, want deze opleiding wordt maar 1 keer gegeven in het najaar!