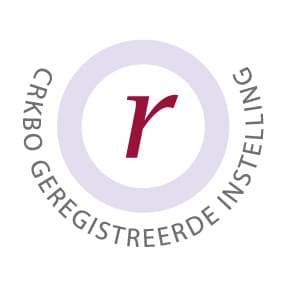 CRKBO en NRTO audit met 100% score geslaagd!
Met trots kunnen wij melden dat wij met een score van 100% geslaagd zijn voor de audits van CRKBO en NRTO!
Wat houden deze certificerende instellingen in?
CRKBO:
– Al onze opleidingen en examens zijn en blijven vrijgesteld van BTW. Dat scheelt maar liefst 21%!
NRTO:
Het NRTO-keurmerk is in de opleidingenmarkt een teken van kwaliteit en professionaliteit. Het geeft consumenten en bedrijven zekerheid bij de keuze voor een opleidingsinstituut, trainingsbureau, EVC-aanbieder of examenaanbieder.
De basis van het NRTO-keurmerk bestaat uit acht kwaliteitseisen die van belang zijn voor elke private aanbieder, van klassikale opleiders tot aanbieders van (online) opleidingstrajecten en examen- en valideringsinstituten. Een NRTO-lid:
– Is transparant over zijn product of dienst.
– Is helder over de leeruitkomsten van opleidingen en trainingen.
– Meet de klanttevredenheid.
– Komt gemaakte afspraken na.
– Zet deskundige docenten, trainers en adviseurs in.
– Investeert in de deskundigheid van zijn personeel.
– Heeft zijn processen op orde.
– Streeft naar continue verbetering.
Dankzij deze geslaagde audits kunnen wij met passende trots onze opleidingen en examens blijven aanbieden, met kwaliteit. Alhoewel wij altijd kijken hoe wij onze processen beter kunnen inrichten zodat wij de klant nog beter kunnen bedienen. Wij blijven dan ook continu streven naar kwaliteit en professionaliteit.